Genetics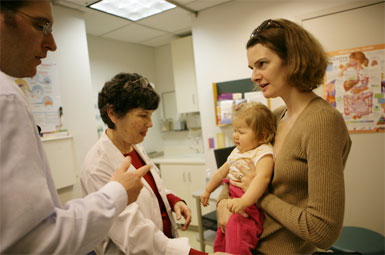 The recent expansion of genetic information coupled with the proliferation of new genetic technologies has led to innovative applications of genetic medicine to promote the health and well being of the unborn child and newborn infant, their parents and their families.
Using a nondirective approach, the staff of the Division of Human Genetics provides an individualized array of genetic services including genetic counseling to address the unique needs of each family.
These include the following:
Preconception counseling and testing. The aim of this of this type of consultation is to assess and inform couples about their risks for having healthy children as well as children with genetic problems or birth defects prior to conception.
Carrier testing. The purpose of carrier screening is to identify individuals who are themselves healthy but are at risk for having children with a variety of genetic disorders. Carrier tests are available for many but not all genetic disorders. These tests are also offered with appropriate counseling on a case-by-case basis.
Prenatal genetic screening and diagnostic tests. Genetic counseling provides information to patients about their options regarding genetic testing and screening prior to and/or during pregnancy so that each individual/couple can choose what is appropriate for their needs.
Clinical genetic services. These services are concerned with the diagnosis and management of the medical, social, and psychosocial aspects of hereditary disease and birth defects. The goal is to make a correct diagnosis and provide appropriate treatment. This includes helping the individual and the family understand and come to terms with the nature and the consequences of the disorder. An added challenge is facilitating the exchange of information between other family members so that they can be informed of their risks as needed.
Newborn Screening. All newborns are screened for a variety of genetic diseases that early treatment can prevent, or at least ameliorate the consequences. Medical genetics personnel facilitate the exchange of information about the results of these tests with parents/families for infants born in our center.
Genetic counseling. This is a core activity in medical genetics. Trained medical genetics personnel are concerned about informing patients/families about all aspects of medical genetic problems, including recurrence risks. Information is provided with appropriate psychosocial support in a culturally sensitive manner so that the affected individual/individuals can understand and come to terms with the nature and consequences of the disorder.
Contact
Division of Medical Genetics

Telephone: (646) 962-2205
Doctors with Expertise in This Area
Back to Top